anti-Drebrin guinea pig polyclonal, serum
anti-Drebrin guinea pig polyclonal, serum
View more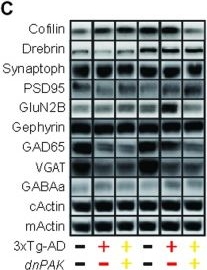 View more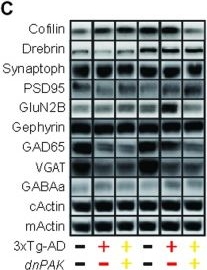 Key Features
Guinea pig polyclonal
Suitable for ICC/IF, IHC, IP and WB
Reacts with bovine, human, mouse and rat

Product description

Quantity

100 µl

Antibody Type

Polyclonal

Host

Guinea pig

Conjugate

Unconjugated

Application

ICC/IF

, IHC

, IP

, WB

Purification

Stabilized antiserum

Reactivity

Bovine

, Human

, Mouse

, Rat

Storage

Short term at 2-8°C; long term storage in aliquots at -20°C; avoid freeze/thaw cycles

Intended use

Research use only

Immunogen
Synthetic human peptide (aa 254-272) coupled to KLH
Formulation
Contains 0.09% sodium azide
UniprotID
A1L5A7 (Bovine),Q16643 (Human),Q9QXS6 (Mouse),Q07266 (Rat)
Synonym
Drebrin, Developmentally-regulated brain protein, DBN1, D0S117E
Note
Centrifuge prior to opening

Applications

| Tested applications | Tested dilutions |
| --- | --- |
| Immunocytochemistry (ICC)/ Immunofluorescence (IF) | Assay dependent |
| Immunohistochemistry (IHC) - frozen | 1:100 |
| Immunohistochemistry (IHC) - paraffin | 1:100 (microwave treatment recommended) |
| Immunoprecipitation (IP) | Assay dependent |
| Western Blot (WB) | Assay dependent |

Background

The antiserum specifically reacts with drebrin, a widespread actin-associating protein of 70 kD (SDS-PAGE mobility shows Mr 120,000). Drebrin has originally been described only in neuronal cells, but has been recently found also in the actin-rich lamellipodia and filopodia of motile cells. It is enriched at junctional plaques, defining a specific microfilament anchorage system in polar epithelial cells.
Positive staining was found in many tissues, including diverse epithelia and carcinoma (e.g. in epidermis basal cells are positive, whereas overlying cells are negative; also positive: regenerating epithelium during wound healing; basal cell carcinoma; skin melanoma), specific types of endothelia and smooth muscle; especially prominent in the mesangial cells of renal glomeruli and in the Sertoli cells of testis.
Also positive: epithelia of hair follicles and eccrine sweat glands. Consistently negative were, however, hepatocytes and cross-striated muscle.
Positive cultured cell lines: PLC, U333, HUVEC, HaCat, HeLa, MCF-7, SV-80, B1; B16 (mouse melanoma cells)

References/Publications (4)

Publication

Species

Application

Species human,mouse,bovine


Application IHC (frozen),ICC-IF,IEM


Downloads

Q & A's

There aren't any asked questions yet.

Customer Reviews

FAQs

PVDF membranes show better results than nitrocellulose (higher capacity, allows for more stringent washing conditions in case of background problems).
Use freshly prepared blocking solution (e.g. 5% nonfat dry milk, 0.05% Tween 20), block for at least 1 h at room temperature.
Use the antibody in a higher dilution, but prolong incubation time and exposure time.
Always use a fresh aliquot of the antibody.
Do not repeatedly freeze the antibody (eventually centrifuge shortly after thawing to remove cryo-precipitates).
Include an additional washing step.
You might also try more stringent wash conditions, e.g. add 0.5 M NaCl to the wash buffer.
Always use a fresh aliquot of secondary antibody.
In case you use ECL most the guinea pig antibody should be diluted further in order to get rid of the background.


Most of our purified mouse antibodies contain 0.5% BSA as stabilizer. If BSA was added to the antibody solution, it is stated in the datasheet.
The supernatant format contains FCS proteins from cell culture medium supplemented with FCS.
The serum antibodies contain other proteins present in serum.



Lyophilized antibodies can be stored at 2-8°C until expiration.
Most of our liquid antibodies and reconstituted lyophilized antibodies may be stored for short term storage (up to 3 month) at 2-8°C. For long term storage we recommend to store the antibody at -20°C in aliquots. Please avoid freeze and thaw cycles.
Most of our conjugated antibodies should be stored at 2-8°C.
The individual storage conditions are mentioned on the datasheet.



The expiration date of our antibodies is indicated on the product label.


Methanol/ acetone fixation: Immerse slide in precooled (-20°C) methanol for 5 min, immerse in precooled (-20°C) acetone for 30-60 sec, let specimen air dry before antibody incubation.
Methanol/ acetone fixation plus detergent permeabilization: After methanol/ acetone fixation and air-drying dip slide either in a solution containing 0.1-0.2% Triton X-100 in PBS or in 0.1% saponin in PBS for 1-5 min at room temperature (enhances accessibility of many cytoskeletal antigens).

Air-drying of the section.
Block with the serum of the species in which the secondary antibody was raised for 30 min.
Incubation with 1st antibody 1 h at RT in moist chamber.
Wash 3x with PBS.
Incubation with appropriate fluorescent secondary antibody, 30-60 min at RT.
Wash 3x with PBS.
Immerse shortly into ethanol.
Let air dry.
Cover with mounting medium.


Most of our antibodies contain 0.09% sodium azide as preservative. If a preservative is added, it is mentioned in the datasheet.


The optimal antibody dilution for your specific protocol and application needs to be titrated in your lab with your equipment and sample. The optimal dilution may vary between protocols and samples. A good dilution for starting the titration is the dilution mentioned in the datasheet. If the sample needs a specific treatment (eg. Antigen retrieval for IHC on FFPE sections) this should also be mentioned on the antibody datasheet.


PROGEN antibodies are shipped at ambient temperature. The antibodies are stable at ambient temperature for the shipment period. Please store the antibodies as indicated in the datasheet upon arrival.


The concentration of specific antibody in our guinea pig serum is not determined.
In guinea pigs the antibody concentration in serum varies from 10 to 20 mg/ml; specific antibodies represent normally about 0.1-1% of total IgG. Total protein concentration varies from 40 to 65 mg/ml, with the main constituent (about 60%) being albumin.