anti-Plakophilin 1 mouse monoclonal, PP1-5C2, supernatant
IHC of mouse tongue (courtesy of J.Heß, University Hospital Heidelberg)
View more
IHC of human oral mucosa (© PROGEN in cooperation with Uniklinik Heidelberg, Dr. Jochen Heß)
View more
IHC of rat tongue (courtesy of J.Heß, University Hospital Heidelberg)
View more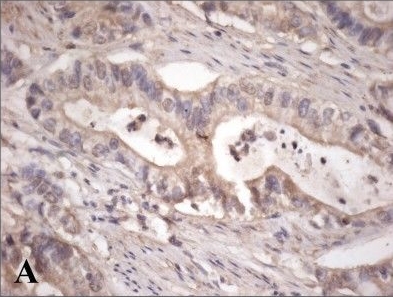 View more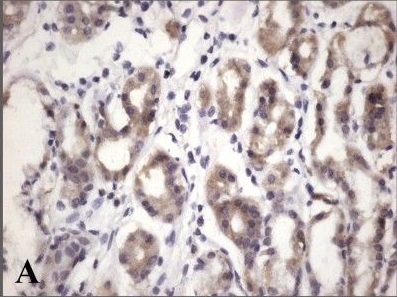 View more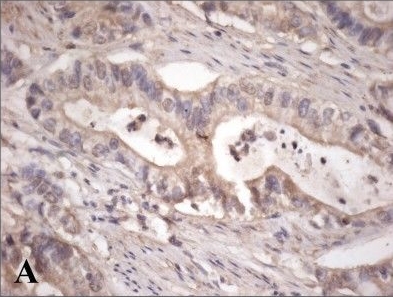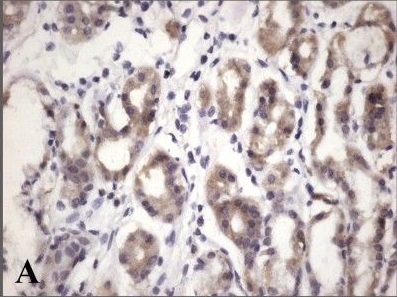 Key Features
Hybridoma cell culture supernatant

Mouse monoclonal
Suitable for ELISA, IHC and WB
Reacts with bovine, human, mouse, pig and rat
Isotype IgG1

Product description

Quantity

5 ml

Antibody Type

Monoclonal

Host

Mouse

Isotype

IgG1

Conjugate

Unconjugated

Application

ELISA

, IHC

, WB

Purification

Hybridoma cell culture supernatant

Reactivity

Bovine

, Human

, Mouse

, Pig

, Rat

Storage

Short term at 2-8°C; long term storage in aliquots at -20°C; avoid freeze/thaw cycles

Intended use

Research use only

Clone
PP1-5C2
Immunogen
Plakophilin 1 ("band 6 polypeptide" of bovine muzzle epidermis)
Formulation
Contains 0.09% sodium azide
UniprotID
Q28161 (Bovine), Q13835 (Human), P97350 (Mouse), I3LGN8 (Pig), D3ZY51 (Rat)
Synonym
Plakophilin-1, Band 6 protein, B6P, PKP1

Applications

| Tested applications | Tested dilutions |
| --- | --- |
| Immunohistochemistry (IHC) - frozen | Undiluted-1:50 (preincubation with 0.05-0.2% Triton X-100, for 5-10 min recommended; for delicate tissues like liver and gastrointestinal material preincubation with saponin is preferred) |
| Immunohistochemistry (IHC) - paraffin | Undiluted-1:50 (pretreatment with 0.001% trypsin and microwave treatment recommended) |
| ELISA | Assay dependent |
| Western Blot (WB) | Assay dependent |

Background

Antibody recognizes plakophilin 1 in diverse stratified epithelia, in complex epithelia (e.g. urothelium of the bladder and tracheal epithelium) and in glandular duct epithelia; squamous cell carcinoma are positive, whereas all adenocarcinoma tested so far are negative.

Polypeptide reacting: Plakophilin 1: calculated mol. wt. 80,496 (human) and 80,180 (bovine).

Reactivity on human cultured cell lines: HaCaT, A-431, BPH-1 (derived from non-neoplastic prostatic tissue).

References/Publications (1)

Publication

Species

Application

Species human


Application WB, IHC-IF (paraffin)


Downloads

File

Category

Size

Filetype

Category Protocol

Size 167.19 KB

Filetype pdf

Q & A's

There aren't any asked questions yet.

Customer Reviews

FAQs

The concentration of unpurified supernatant, ascites, unpurified guinea pig serum and unpurified rabbit serum is not determined.
The concentration of purified antibodies is mentioned on the datasheet.
For prediluted antibodies the concentration may vary from lot to lot. The concentration of these antibodies is not mentioned on the datasheet and can be requested at support@progen.com.



Most of our purified mouse antibodies contain 0.5% BSA as stabilizer. If BSA was added to the antibody solution, it is stated in the datasheet.
The supernatant format contains FCS proteins from cell culture medium supplemented with FCS.
The serum antibodies contain other proteins present in serum.



Tissue fixation 5 min in methanol (-20°C) and 5 min in acetone (-20°C).
Air drying.
Dip slide either in a solution containing 0.1-0.2% Triton X-100 in PBS or in 0.1% saponin in PBS for 5 min at RT (enhances epitope accessibility of many cytoskeletal antigens).
Air drying of the section.
Block with the serum of the species in which the secondary antibody was raised for 30 min.
Incubation with 1st antibody 1 h at RT or overnight at 4°C in moist chamber.
Wash 3x with PBS.
Incubation with appropriate secondary antibody (with fluorescence dye), 30-60 min at RT.
Wash 3x with PBS.
Immerse shortly into ethanol.
Let air dry.
Cover with mounting medium for microscopy.


PROGEN offers different formats for mouse monoclonal antibodies. Different antibodies may not be offered in each format, the following are all possible formats:

Supernatant and supernatant concentrate: This format contains hybridoma cell culture supernatant. The antibody is not purified and the antibody concentration is not determined. The antibody concentration may vary from lot to lot. Therefore we recommend to titrate the optimal concentration for the application used for each new lot.
Lyophilized, purified: This format contains purified antibody in lyophilized form. The reconstitution of this antibody is described in the datasheet. The buffer composition after reconstitution is also mentioned on the datasheet.
Liquid, purified: This format contains purified antibody in liquid format. The concentration is mentioned on the datasheet.
Prediluted, purified: This format contains purified antibody in liquid format. Most antibodies in this format are diluted to be ready-to-use for IHC with standard tissue. But some antibodies of this format need further dilution for IHC. This is mentioned on the datasheet.


Lyophilized antibodies can be stored at 2-8°C until expiration.
Most of our liquid antibodies and reconstituted lyophilized antibodies may be stored for short term storage (up to 3 month) at 2-8°C. For long term storage we recommend to store the antibody at -20°C in aliquots. Please avoid freeze and thaw cycles.
Most of our conjugated antibodies should be stored at 2-8°C.
The individual storage conditions are mentioned on the datasheet.



The expiration date of our antibodies is indicated on the product label.


We offer bulk amounts starting from 1 mg for many of our mouse monoclonal or recombinant antibodies. Please contact us for further information or use the "bulk button" on the product page.

Most of our antibodies contain 0.09% sodium azide as preservative. If a preservative is added, it is mentioned in the datasheet.


The optimal antibody dilution for your specific protocol and application needs to be titrated in your lab with your equipment and sample. The optimal dilution may vary between protocols and samples. A good dilution for starting the titration is the dilution mentioned in the datasheet. If the sample needs a specific treatment (eg. Antigen retrieval for IHC on FFPE sections) this should also be mentioned on the antibody datasheet.


PROGEN antibodies are shipped at ambient temperature. The antibodies are stable at ambient temperature for the shipment period. Please store the antibodies as indicated in the datasheet upon arrival.